Little Italy in San Diego is rapidly evolving as an inner-city neighborhood ideal for living, shopping, dining, and visiting. Little Italy has beautiful views of the bay, art and cultural events, and delicious food.
The nearby Little Italy street sign, which was created in 1999, indicates that the neighborhood is the heart and soul of San Diego's inner community. The sign, which can be found on India Street between Date and Fir, is truly a sign of peace.
Every year, nearly a dozen festivals are held in Little Italy. There are numerous holiday celebrations, music and art expositions. Little Italy comes alive like never before during this time.
India Street is the beating heart of Little Italy. There are numerous outdoor cafes, restaurants, galleries, and specialty shops on this street. Amici Park, located nearby, has a playground for Washington Elementary School as well as a community park with a bocce ball court.
San Diego's Little Italy is bigger and better than the Little Italy neighborhoods in New York and San Francisco. San Diego's waterfront district is reviving with Little Italy, proving to be a popular tourist destination.
San Diego Tours of Little Italy
Among the most popular Things to Do in San Diego
Little Italy is definitely worth the visit if you are downtown San Diego. There are many little restaurants in this area. My favorites are Mimmo's Italian Village and Fillipi's Pizza.
Mimmos Italian Village is a nicer Italian restaurant in Little Italy. Their food is traditional Italian. I love their chicken parmesan and the antipasti salad.
They have a lovely outdoor patio that I would suggest as my first choice of seating. Indoors is a little more traditional with mural paintings on the walls.
Fillipi's Pizza is a lot more casual and is known to have some of the best pizza in San Diego! Anytime I want good pizza, I go to Fillipi's. Their pizza had the thick doughy crust. You cannot go wrong with any of the pizzas.
Downtown San Diego is close to many exciting attractions in San Diego, but one of the most popular is the Little Italy District. San Diego Tours of this historic neighborhood will allow you to experience great San Diego Restaurants, fabulous San Diego Shopping Boutiques, and fun Annual Events in San Diego.
Unlike many of the ethnic areas in cities, Little Italy in San Diego is a stable area of businesses and residential communities which has been in existence since the 1920s. Little Italy today represents San Diego's oldest continuous neighborhood business district. Once there were more than 6,000 Italian families living in Little Italy and toiled to build San Diego's tuna industry.
As with all things, when the tuna industry declined and the destruction of 35% of Little Italy due to the construction of Interstate 5, there were nearly 30 years of decline in the area. In the 1990s the property owners and families left in the area decided to take their fate into their own hands, and for the benefit of all of us, they succeeded in rebuilding its greatness!
Little Italy is hosting a weekly event called Little Italy Mercato. This is poised to become downtown San Diego's official "city market". The event begins at 9 and continues until 1:30 on Date Street (between Kettner and State streets in Little Italy). This is a great break from the traditional sightseeing trips with the opportunity to buy organic produce, meats, cheese, pasta and other authentic foods and enjoy live chef demonstrations, tastings, and more.
While in the area be sure to look at the fabulous murals that are throughout the area telling the history of the area.
About San Diego's Little Italy
San Diego's Little Italy is one of the many Little Italy's scattered about the United States, and the neighborhood is one of the top tourist attractions in San Diego. The various Little Italy districts in the U.S. have symbolized the contributions that Italians have made to American culture, and now serve as a gathering place for those who want to preserve Italian heritage.
Over the years in America, many Little Italy's have disappeared or fallen into decline. There are few that represent the former glory of the thriving Italian neighborhoods, but San Diego's Little Italy is a little different. San Diego's Little Italy houses an established residential community, many businesses with stable ethics, and a huge influx of San Diego visitors on a continual basis.
Why You Should Visit San Diego's Little Italy
Since the 1920s, San Diego's Little Italy has housed Italian families, more than 6,000 at one time. Little Italy represents downtown San Diego's oldest continuous community and business district, and it's one of the top spots for San Diego Tours and San Diego Dining.
Although San Diego's Little Italy did suffer a few decades of hardship due to the construction of the Interstate-5 freeway and the decline of the tuna industry that fueled the community, it is today a model urban neighborhood. When you visit Little Italy, you'll surely notice the influences that new Italian American and non-Italian business owners have brought in, such as popular retail stores and contemporary professional spaces.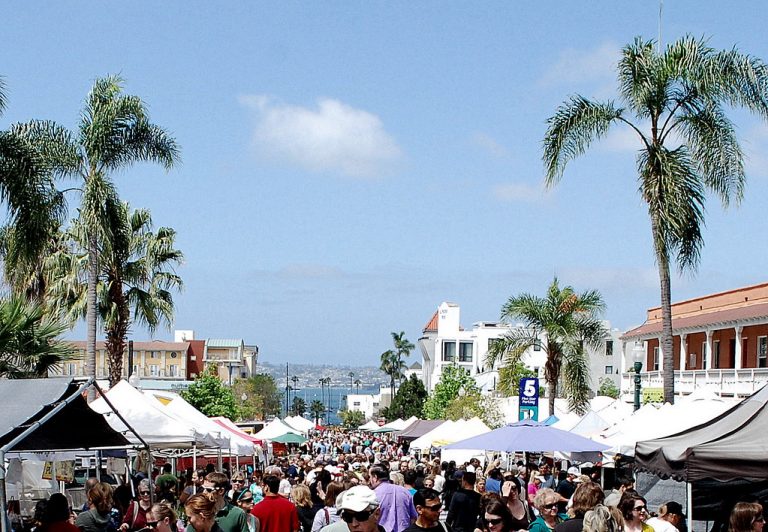 There have been some creative work done by talented architects and builders to turn Little Italy into one of the top attractions in San Diego. More than $3 million in street improvements took place on the main commercial corridor, India Street, and more are planned for the near future.
Little Italy tells the story of Italian immigrants and residents through public art displays and pizza places on almost every street. San Diego's Little Italy is a great place to go when you're looking for San Diego Tours that depict the history of this exciting city.
Tips for Visiting San Diego's Little Italy
When you want to dine at San Diego Restaurants in Little Italy, try 98 Bottles, Anthology, or Assenti's Pasta.
There are all kinds of great places to shop in San Diego's Little Italy, such as Antiques on Kettner, Architectural Salvage, Blush Botanicals, Carol Gardyne Boutique, and French Garden Shoppe.
If you're looking for fun San Diego Events to take in within minutes of Downtown San Diego, head to Little Italy and attend Little Italy's Farmers' Market, Kettner Nights in Little Italy North, the Annual Little Italy Fiesta, or the Annual Little Italy Tree Lighting and Christmas Village.
Interesting Facts About San Diego's Little Italy
San Diego's Little Italy was ripped apart by freeway construction during the 1960s, and it took quite a while to recover. It thrives today and is one of the top attractions in San Diego.
Downtown San Diego's redevelopment in the 1980s began in the Gaslamp Quarter, and ended in Little Italy, bringing a host of stylish condos, funky San Diego Shopping boutiques, and world-class San Diego Restaurants.
San Diego's Little Italy Location and Contact Information
Location: Interstate 5 heading South: Take Front St./Civic Center exit, make the first right on Cedar Street, drive two blocks west and make a right on India Street.
From Mexico on Interstate 5, heading North: Exit Hawthorn/Airport, make a left on Columbia Street then a right on Cedar Street, then a right n India Street.
From Highway 8: Take Highway 163 South to Highway 5 North, exit Hawthorn/Airport exit, make a left on Columbia Street then a right on Cedar Street, then a right on India Street.
Take a break, see something different and enjoy the fabulous shops and food in this area of San Diego!
Find out more about San Diego's Little Italy by visiting the Little Italy Association of San Diego at 2210 Columbia Street, San Diego, CA 92101. Tel: 619.233.3898